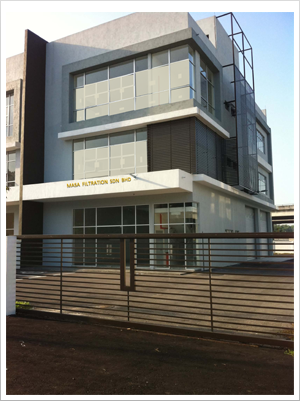 MASA Filtration Sdn Bhd was incorporated in early year 2008. MASA acquired ISO 9001:2008 certification in December 2011. Located and operating in our own premise in IPARC Bukit Jelutong Industrial Area, Shah Alam. With @ 10,000ft2 floor area we keep sufficient filters and parts to support our existing customers. Besides holding prestigious overseas product agencies MASA Filtration SB is working with reliable local fabricators and machinists. The purpose is to facilitate our own assembling and testing of filter units for special requirements. And to create more jobs for local workers in Malaysia.

pressure ASME u-stamped steel filters, MASA is capable of meeting customers' need with prompt after sales service.

Our clients include, but not limited to, irrigation, power plants, semi-conductors, metal producers, municipal, petro-chemical plants, as well as oil & gas industries. Our projects involved supply of fully automatic self cleaning filters, robotic filter, water injection filter, seawater strainer and manual strainers complete with design drawing, skid, installation, testing, commissioning, and training for users. In early Year 2012 a team of water treatment engineers joined us to expand into creating business opportunities for complete water treatment systems such as chemical dosing, oil removal, etc..

Our original group of workforce will remain focused on water filtration system which is always a part of water treatment facilities.